Tomorrow's Engineers Robotics Challenge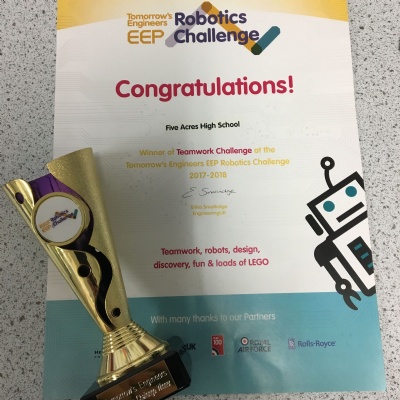 Tomorrow's Engineers EEP Robotics Challenge
Well done to Deane, Finley, Tyler, Ruby, Lucy, Jack and Sam who represented Five Acres High School at the 'Tomorrow's Engineers EEP Robotics Challenge' at Airbus UK, Bristol on Tuesday 20th February.
The students had been working on a presentation as well as designing and building a robot since October, and had to compete in 5 different challenges.
The challenges included a Speed Challenge, Robotics Mat challenge, a Research Presentation, a Robot Design challenge and a Team Work challenge. Our students won the Team Work Challenge! We are so proud of them for displaying our Five Acres Five Core Values - Respect, Creativity, Ambition, Resiliance and Confidence.