Year 8 Boys F.A Cup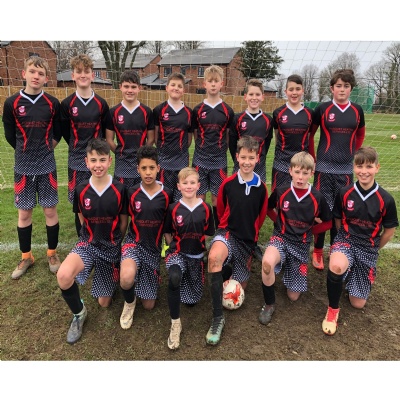 Our year 8 boys have now progressed through to the last eight of the English Schools F.A Cup after beating an impressive Wolverhampton Grammar School 4-3 in a very entertaining game.
Five Acres started strongly going 2-0 up however Wolverhampton brought one back to make it 2-1 at half time. The second half was full of entertainment and was a great battle between two really strong sides. Wolverhampton pulled another back to take it to 2-2, Five Acres almost immediately made it 3-2. Again after a lot of counter attacking by both teams Wolverhampton made it 3-3 and it looked as though it was going to go to extra-time however Five Acres managed to score in with the very last kick of the game.
It was a fantastic team performance with every player doing their job- write from our goalkeeper Dan Giles who made some great saves, all the way through our defence and midfield to our strikers who scored the four goals. Caidan Jones had a hat-trick with a strong performance and Dan Hardy scored the other.
The quarter-finals are yet to be published but the road so far has been successful. In Round 1 we beat Aylestone School from Hereford 11-1, in Round 2 we beat Gloucester Academy 13-1, in Round 3 we beat Catshill Middle School from Bromsgrove 5-4, and finally beating Wolverhampton Grammar School takes us into the quarter finals.
Pictured are the boys in their new kit which was sponsored by Pasquet Heating Services Ltd. There will be more pictures to follow of all of our kits which have been kindly sponsored this year. A big thank you to Ryelands Electrical and Mike Burris Flooring for sponsoring Rugby, Pasquet Heating Services Ltd and SDG Groundworks for sponsoring Football and ITEC for sponsoring Netball. Our students are over the moon with their new kits and appreciate the generosity shown from our sponsors.