International School Award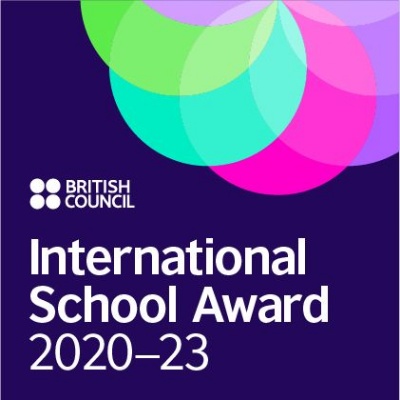 We are very excited to officially announce that Five Acres High School has been awarded the International School Award 2020-2023
Five Acres High School has been awarded the British Council's prestigious International School Award in recognition of its work to bring the world into the classroom through the outstanding development of the international dimension in the curriculum.
The International School Award celebrates the achievements of schools that do exceptional work in international education. Fostering an international dimension in the curriculum is at the heart of the British Council's work with schools, so that young people gain the cultural understanding and skills they need for life and work in today's world.
Our international work is part of our Character Education programme launched by Rhiannon Rainbow and Bekki Smith in Spring 2019, that was recognised when we were awarded the School of Character, Character Education kitemark from the Association of Character Education in November 2019. The school works closely with Paul Kay, Marilyn Cox, Nick Penny and Iain Baird from the committee of the Coleford Twinning Association, to offer opportunities for our students to have cross-cultural experiences with students from St Hilaire de Riez, Coleford's twin town. These have included annual visits of students from College Pierre Garcie-Ferrande, as well as our school choir, led by music teacher Kirsten Barker, being the opening act for Le Fete de la Musique in St Hilaire de Riez, which went virtual for the first time in June 2020.
Nick Penny, Mayor of Coleford, said: "The Five Acres High School Choir opened the show and set an extremely high standard for our French friends to follow."
As a school we are also committed to the Tujuane (Swahili meaing 'Let us know each other') UK-Kenya Student Exchange Project, part of which is a regular student exchange between three schools in the Forest of Dean and Gloucestershire and the Gilwatsi Secondary School in western Kenya. Iain Baird, who was one of the orginal three teacher that set up the project in 2002 and is now a British Council School Ambassador, is still central to the ongoing environmental and cross-curricular work to which we as a school are committed.
Simon Phelps, Headteacher, said "It is an honour for the school to be recognised in this way again. In our efforts to develop our world-class status it is important for us to recognise the benefits that linking with the outside world can bring to a community such as the Forest of Dean and the way that these links can help shape our students into global citizens. In working within an outward facing trust this type of work is, and needs to continue to be, part of our DNA as a school."
The International School Award Team of the British Council said: "The school has been recommended the Full Award and has clearly listed activities in addition to those completed during the project. They have met the criteria for collaboration and activities involving a high percentage of pupils. They have also included language-based activities. During their CCGL project they have demonstrated a real willingness to interact with the local community and also shown a practical understanding of one of the goals. Five Acres High School has an International Policy and a coordinator. Whilst it is not possible to give such a full account of activities as it would be in a standalone ISA evaluation, there is sufficient evidence to make these recommendations."
The International School Award encourages and supports schools to develop:
An international ethos embedded throughout the school

A whole school approach to international work

Collaborative curriculum-based work with a number of partner schools

Year-round international activity

Involvement in the wider community