Careers Fayre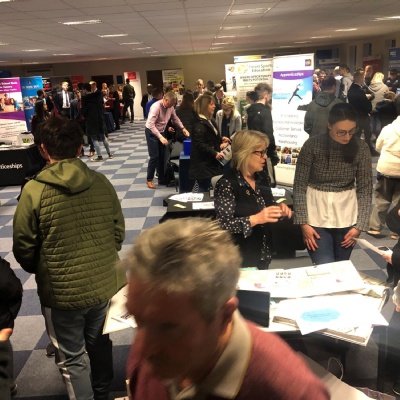 On the 12 February, Five Acres High School hosted its Careers Fayre for Year 9, 10 and 11 students
On the 12 February 2020, our school hosted an extremely successful Careers Fayre with over 30 exhibitors from various companies and educational establishments. Nearly 200 of our students came along with their parents/guardians and the room was certainly buzzing.
Students had the opportunity to try some of the latest innovation equipment and start to consider their future employment options. See below for a selection of the extremely positive comments from parents:
"My son has been offered 2 opportunities of work experience and a part time job"
"I just wanted to let you know the Careers Evening last night was brilliant"
"As a parent I found it really helpful and the businesses that were there were just so helpful"
"The GROWS presentation helped me to understand the different levels"
We were also very pleased to have positive feedback from our exhibitors congratulating our students on how they presented themselves and the very mature questions being asked.
A huge thank you to all the exhibitors for giving our students an insight into higher education and career prospects, and to all the enthusiastic and committed students and parents who attended. Mrs Treherne, careers advisor