All School event, Twickenham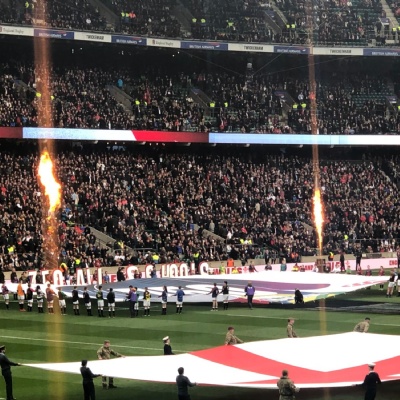 Five Acres High School student takes to Twickenham for All Schools shirt design unveiling
Fives Acres High school student, Kate Brown Year 8, had the experience of a lifetime on Saturday 7th March 2020 when she unveiled the school's new Canterbury rugby shirt in front of a full Twickenham stadium ahead of England's Six Nations clash with Wales.
Kate proudly held the All Achools flag on the famous Twickenham pitch for the national anthems wearing the school's new rugby shirt.
This year Five Acres High school has worked in partnership with the All Schools programme, designing and creating the school kit at the home of Gloucester Rugby, Kingsholm. The All Schools programme, launched in 2012 by the Rugby Football Union, aims to get more state schools playing rugby and encourages students to join local clubs.
Kate was one of 60 students from across England to wear the bespoke rugby shirt designed by Canterbury in England's victory against Wales.