FA Cup 1/4 Final Success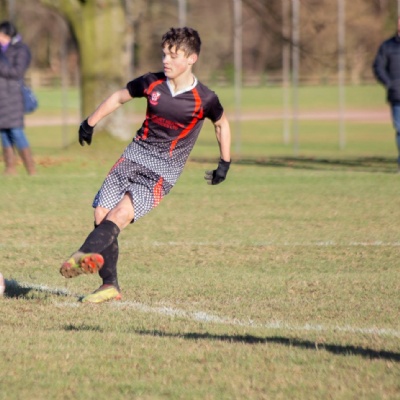 Yesterday our Year 8 boys beat Sir Gregory the Great Catholic School to progress to the semi finals of the English Schools F.A Cup. It was a fantastic game, and whilst Sir Gregory's played well, our boys went on to smash them in a 7-3 defeat.
The opposition scored after 35 seconds which left us scratching our heads, however we bounced straight back to score a beautiful team goal. The goal was headed home by Dan Hardy but the lead up play and the cross was a joy to watch. The first half was exciting with end to end play and a bag full of goals. It closed with Five Acres went in 4-2 up
The team talk at half-time centred around ability to defend- if we could tighten up at the back we'd go on to win comfortably. (Our ability to score has never been an issue, having scored 33 goals in four games to get us to the quarter finals!) The boys did what was asked and only conceded one goal in the second half and this was after we had scored another 3.
Once again it was a fantastic team performance with every player doing their job. Caidan Jones had another outstanding game, scoring 6 goals! Jamie Belfitt and Jack Powell 'bossed' the midfield and Jason Burrows had a solid game at the back. However, I could go through each player and say what they did well - all of our boys showed class and determination.
We had some great support from students, ex-students and family, we would like to thank everyone for their support. The '12th man' made a real impact. Also a big thank you to Mr Yardley and the choir for their contribution at the start of the game. The semi-final draw is 4th Feb at 1pm, should this be another home game, we welcome you all back to cheer our boys on.