Shakespeare Schools Festival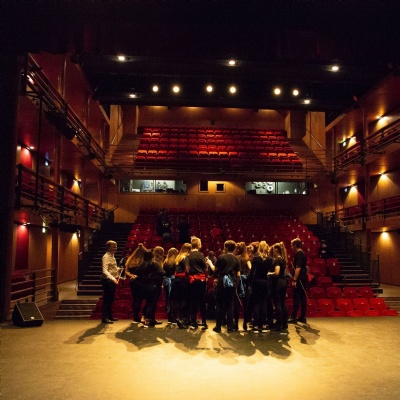 Last Thursday, an extremely talented group of our Year 9 and 10's took part in the Shakespeare Schools Festival. They performed on a professional stage at The Courtyard Theatre in Hereford and were absolutely outstanding. The quality of their performance was incredible.
After a long and often 'stop-start' technical rehearsal in the morning, the dress rehearsal demonstrated to the professional theatre makers in attendance that we were strong enough to open the event. The live performance in the evening was extremely professional, polished and showcased the incredible talent that our performing arts students possess.
In the afternoon, the cast took a visit to Hereford Cathedral where they took in some culture, were active in asking staff for information on the cathedral's history and their respect, behaviour and inquisition was applauded by both the cathedrals staff and members of the public.
We are immensely proud of our students for both the manner in which they represented our school and for the fantastic performances that they gave.