A Mark of Respect and Remembrance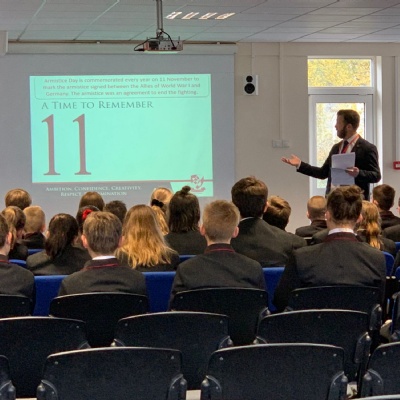 5 Acres commemorates Armistice Day
They shall not grow old
as we that are left grow old.
Age shall not weary them,
nor the years condemn.
At the going down of the sun,
and in the morning We will remember them.
This week we held special remembrance assemblies for each year group to mark Armistice Day and the centenary of the end of WW1.
Mr Parnell led the assemblies which included a blend of poetry, readings and History. Izzy Sykes read 'The Soldier' by Rupert Brooke and Luke Thomas 'Recruitment' by Jessie Pope
We also learnt about local war hero Angus Buchanan who was awarded the Military Cross in 1916. A bench in the shape of the Victoria Cross has been placed in the new Bell's Field park in his memory.
We held a two minute silence at each assembly; one minute to remember those who died and one minute to remember those who came back.
Thank you to all the students who took part, to Mrs Smith for sharing her fantastic, in depth knowledge of WW1 and to Mrs Brace for the beautiful and moving displays.