Maths Success!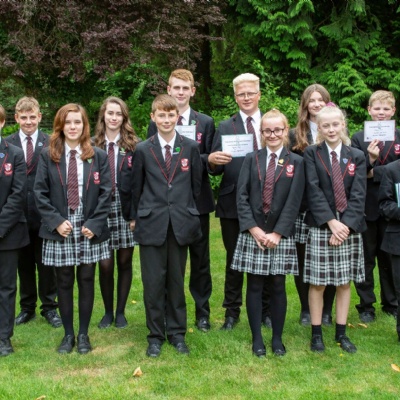 Award winners at the UK Mathematics Trust Challenge
This year we entered some of our top performing students in the UKMT (United Kingdom mathematics trust) challenge, which aims to stimulate difficult mathematical problem solving. The Junior Challenge is for Year 7 and Year 8 students and the intermediate challenge is for year 9 and 10 students. To recognise the highest performers in the challenge UKMT award the top-scoring 40% of participants; bronze, silver and gold certificates in the ratio 3:2:1.
We are very proud of the results we achieved this year, 1 Gold, 3 silvers and 15 bronze awards and many certificates of participation.
Benjamin Thomas, who was awarded the Gold certificate also qualified for the next round of the challenge called the Junior Kangaroo. To qualify for this challenge the 6000 top scoring students from across the UK ae invited to take part. This is the first Kangaroo qualifier for this school and we are very proud!