Brilliant Club!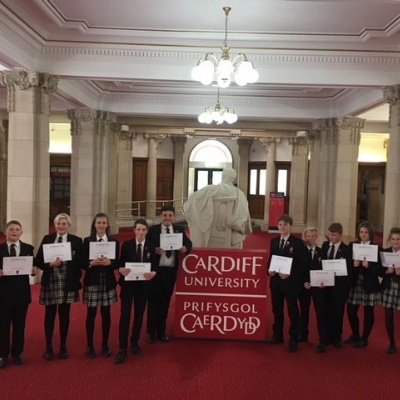 Our 'Brilliant Club' attended Cardiff University for their graduation ceremony last week.
The Brilliant Club is an award-winning charity that exists to increase the number of pupils from under-represented backgrounds progressing to highly-selective universities.
One of the programmes they offer is 'The Scholars Programme' which employs doctoral and post-doctoral researchers on a part-time basis to deliver programmes of academic enrichment to small groups of students, through a combination of university trips, in-school tutorials and online resources. Our first group of Brilliant Club students were challenged to complete a 2000 word assignment on the topic 'From Gene Sequence to Jean Size: How our genetic code makes us who we are'. We had a 100% pass rate and Lydia even achieved a first!
The students and their parents attended their graduation ceremony on 17th July at Cardiff University and Lydia, Kieran and Dylan all spoke at the ceremony. We are very proud of their achievements and are looking forward to seeing what the next group will get up to.